Winter 2021 CCC Medical Interpreter Series - Modules 3 & 4: Medical Interpretation: Cultural Awareness; Unconscious Bias; Strategic Mediation; Professional Identity, Medical-Legal Interpretation
Feb 3–Feb 11, 2021
Closed
Allied Health
Description
This series of five classes, plus a related medical terminology class (for any language pairing) is based on the Cross Cultural Communication (CCC) curriculum. All classes will be offered through live webinars only; interested participants must have adequate technology to participate fully in virtual audio and video interaction with the instructor, with reliable internet in their home or work office. Further, each class will be split into two 1/2 day morning sessions to maximize virtual learning--participants are required to attend both 1/2 days of each class for full credit; no partial credit will be awarded.
The classes are offered to those new to the field of medical interpretation, as well as those looking to improve their medical interpretation skills. The sixth two-day class on medical terminology can also be taken separately by interested medical interpreters or healthcare clinicians. This educational activity is in collaboration with the WCMS Interpreters Network (WIN). E-manual costs are included in the class fees.
Snow dates: March 3–4, 2021.
Only individuals who have completed Modules 1 & 2 may attend Modules 3 & 4 (and then Module 5).
Note: Those who are interested in professional medical interpretation are urged to take the entire series of five modules, plus the Medical Terminology course as this will award over 40 credit hours; 40 hours of medical interpreter education is required to take either of the two national medical interpreter certification exams.
ALL CLASSES IN THE CCC WINTER 2021 MEDICAL INTERPRETER SERIES

Modules 1 and 2: Introduction to Professional Medical Interpretation; Ethics & Standards; Interpreting Protocols and Skills - January 20 and 21 (8:30am - 12:15pm) and January 27 and 28 (8:30am - 12:15pm)

Modules 3 and 4: Medical Interpretation: Cultural Awareness; Unconscious Bias; Strategic Mediation; Professional Identity, Medical-Legal Interpretation - February 3 and 4 (8:30am - 12:15pm) and February 10 and 11 (8:30am - 12:15pm)

Module 5: Medical Interpretation: Standards of Practice; Advocacy; Professional Development and Self-care; and Series Participant Assessment - February 17 and 18 (8:30am - 12:15pm)

Medical Interpretation - Medical Terminology (any language pairing), with Participant Assessment - February 24 and 25 (8:30am - 12:15pm)
In collaboration with WCMS Foundation, Inc., and the WCMS Interpreter Network (WIN)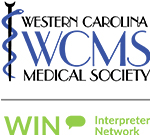 Target Audience
Bilingual individuals who currently provide interpreter services, or plan to provide interpreter services, in any language, in any health or human services setting.
Objectives
Upon completion of Modules 1-5 and the Medical Terminology class, participants should be able to:
Discuss the role of a professional medical interpreter
Cite code of ethics and standards of practice for professional medical interpretation
Apply appropriate decision-making for advocacy and cultural mediation
Determine Greek and Latin roots of medical terms in order to interpret effectively in their language pairing
Faculty
Fees