MAHEC Project ECHO: Community Health Workers' Peer Learning Collaborative - 12-Part Live Webinar Series
Oct 21, 2021
Public Health
Description
Project ECHO® is a lifelong learning and guided practice model that revolutionizes medical education to provide best-practice specialty care and reduce health disparities. ECHO is led by an expert team that uses multi-point videoconferencing to conduct virtual learning sessions comprised of a short didactic followed by case presentations provided by participants.
In the weeks immediately after the pandemic spread to the United States, disadvantaged communities were faced with reduced access to care, a widening digital divide, and inadequate supplies, such as food and diapers. Investing in Community Health Workers (CHWs) and community-based organizations can help address the social determinants of poor health that disproportionately affect low-income, minority populations which are magnified during times of crisis. These workers and organizations can help improve material conditions, facilitate access to healthcare systems, and provide psychosocial support. The level of CHWs engagement with COVID-19 activities, as well as the types of activities (e.g. general community education or direct engagement with persons diagnosed with COVID-19), will depend on many factors—including available resources and skills. The goal of this ECHO is to bring Community Health Workers across North Carolina together to make connections and learn from each other.
We invite you to join us at 11:30 am for an informal communication collective and engage with others doing similar work all across NC. Then, at 12:00 pm, we will begin each session with a didactic presentation from one of the key stakeholders in the region, followed by a relevant case presentation and collaborative Q&A.
Topics will include:
• NC CARE 360
• Barriers with NC Care 360
• COVID-19
• Relationship with Healthcare System
• Culturally Responsive Communication
• Community Engagement
• more to TBD
Simultaneous interpretation for each ECHO session will be provided in Spanish.
The NC AHEC CHW Program was established in 2021 to support the work of the NC CHW Initiative, statewide effort to advance CHW workforce and models of community health transformation led by the NC Office of Rural Health and other stakeholders.
In Collaboration with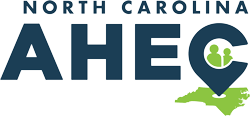 All program dates are streamed on the ECHO Zoom Platform.
Each module is a new topic.
Modules are every third Thursday of the month for 12 months from 12 pm to 1 pm EST.
Optional Informal Communication Collective: 11:30 am–12:00 pm
Educational Program: 12:00 pm–1:00 pm
(same for every module; you must login at 11:50 am for credit)

One credit hour is earned for each module attended.


MAHEC engages in evaluation activities to better understand the impact of our programs. By registering for this course, you agree that we may use your personal information in evaluative research regarding this program. Any reports published will be de-identified and reported in aggregate form.
MAHEC assumes permission to use audio, video and still images from this program for promotional and educational purposes. Please speak with a staff member if you have any concerns.
This project is funded by the Dogwood Health Trust, a foundation committed to dramatically improving the health and wellbeing of all people and communities of Western North Carolina. By registering for this workshop, you are granting permission for your contact information to be shared with the Dogwood Health Trust, which has provided funding for this continuing education activity.
Target Audience
Community Health Worker
Objectives
To build a collaborative peer learning environment for Community Health Workers to increase health knowledge and self-sufficiency through a range of activities such as outreach, community education, informal counseling, social support and advocacy
To increase engagement of Community Health Workers using NC CARE 360 platform and decreasing barriers with client referrals for meeting social determinants of health needs
To increase COVID-19 testing availability in marginalized population groups
Faculty
Kathey A. Avery, RN, BSN
Ponkho Bermejo
Amy Cantrell
Sonja Emerson, MSN, MPH, RN
Dionne R. Greenlee-Jones, MPA
Adrienne C. Marcellus, BSW, MSW, LCAS
Evan Richardson, RN, CNM, MSN
Shuchin Shukla, MD, MPH
Sessions
Canceled

Module 12 - Cancelled
10/21 12:00 PM–1:00 PM
Credits
.100

CEU

Credit awarded per module

The Mountain Area Health Education Center designates this entire continuing education activity as meeting the criteria for 0.10 CEU as established by the National Task Force on the Continuing Education Unit.
Fees
FREE

Free, must register to attend
Applies 11/2/20–10/21/21