MAHEC Project ECHO: Building the WNC Perinatal Substance Use Disorders System of Care
Dec 31–Aug 13, 2021
Closed
Medicine
Mental Health
Nursing
Description
Project ECHO® is a lifelong learning and guided practice model that revolutionizes medical education to provide best-practice specialty care and reduce health disparities. ECHO is led by an expert team that uses multi-point videoconferencing to conduct virtual learning sessions comprised of a short didactic followed by case presentations provided by participants.
Substance use disorders in pregnancy are a major national public health concern. The rates of opioid use disorders (OUDs) are rising significantly and disproportionately in rural, southern women. Major medical associations recommend comprehensive substance use treatment for pregnant women with Perinatal Substance Use Disorders (PSUDs), including integrated delivery of obstetrical care, substance use care, medication treatment, behavioral health services, and coordinated care with linkages to community services. The goal of this ECHO is to address the ever growing need for dissemination of evidence-based perinatal substance use comprehensive care and create a learning platform to increase inter-agency collaboration to best deliver this care and maximize patient access.
We invite you to join us at 12:15 pm for an informal communication collective and engage with others doing similar work all across WNC. Then at 12:30 pm, we will begin each session with a didactic presentation from one of the key stakeholders in the region, followed by a relevant case presentation and collaborative Q&A.
Topics will include:
• Medication-Assisted Treatment in Pregnancy
• Behavioral Health Treatment in Pregnancy
• Screening Inpatient vs Outpatient
• ADATC – What We Do with Higher Levels of Care in Pregnancy
• Hospital Best Practices
• The Role of Peer Support
• Nurse Family Partnership/ OB Care Managers/ CM and VAYA care management
• Overcoming Bias
• Home Health
• Inpatient Treatment
• Residential Treatment
• Transitions of Care Points for Patients with Perinatal Substance Use Disorders
• More

This videoteleconferencing series, guided by experts in WNC, will take place in one hour modules once a month for one year.

Programs are streamed on the ECHO Zoom Platform.
All modules take place from 12:30 pm to 1:30 pm EST.
Participant must login at 12:20 pm for attendance.
One credit hour is earned for each module attended.


MAHEC engages in evaluation activities to better understand the impact of our programs. By registering for this course, you agree that we may use your personal information in evaluative research regarding this program. Any reports published will be de-identified and reported in aggregate format. MAHEC assumes permission to use audio, video and still images from this program for promotional and educational purposes. Please speak with a staff member if you have any concerns.
This project is funded by the Foundation for Opioid Response Efforts (FORE), a national, private, grant-making foundation focused on inspiring and accelerating action to end the opioid crisis, and the Dogwood Health Trust, a foundation committed to dramatically improving the health and wellbeing of all people and communities of Western North Carolina.
Provided by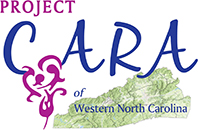 Target Audience
Physicians, nurse practitioners, physician assistants, nurses, mental health professionals including substance abuse counselors, social workers, psychologists, marriage and family therapists, school counselors and other professionals interested in this subject
Objectives
Demonstrate understanding of current evidence-based practice recommendations for Perinatal Substance Use Disorders (PSUDs) and how to support patients
Identify increased knowledge of Transitions of Care Points for Patients with PSUDs
Define screening, assessment, and treatment options for women with PSUDs
Faculty
Erin R. Bowman, LCAS, LCSW, CCS
Karen Burns, MSW
Olivia A. Caron, PharmD
Tammy Cody, MSW, LCSW
Elisabeth A. Johnson, PhD, FNP-BC, CARN-AP
Julian Keith, MD
Mary C. Kimmel, MD
Nathan Mullins, MD, FACOG
Melinda Ramage, MSN, FNP-BC, CARN-AP
Nicole F. Ross, MA, LCAS, NCCPSS
Creola H. Smart, MSN, RNC-MNN, CPN